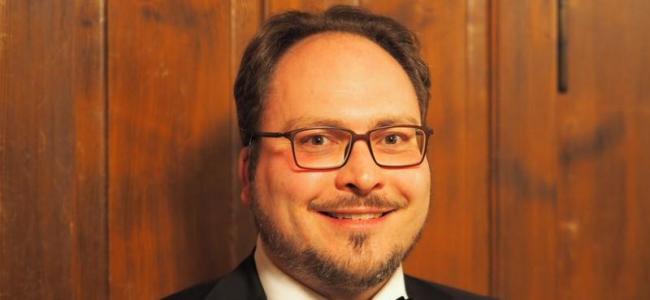 Stefan Pöll,
aufgewachsen am Chiemsee/Bayern, begann noch während der Schulzeit sein Orgelstudium am Mozarteum Salzburg, das er 2004 zusammen mit Kirchenmusik-B abschloss. Nach einem einjährigen Erasmus-Studienaufenthalt in Lyon studierte er Kirchenmusik-A und anschließend Cembalo an der Musikhochschule Freiburg. Seine Lehrer waren Elisabeth Ullmann, Francois Espinasse, Louis Robilliard, Klemens Schnorr und Robert Hill. Durch zahlreiche Meisterkurse erhielt er Impulse für die eigene Interpretation. Er war Finalist beim Wettbewerb mit alter Musik "Organum Histriae" in Kroatien und beim "Concorso organistico internazionale Muzzana", Italien. 2008 übernahm er die Elternzeit-Vertretung für das Bezirkskantorat in Münstertal. Derzeit arbeitet er als hauptamtlicher Kirchenmusiker in Merzhausen und unterrichtet in der C-Ausbildung der Erzdiözese Freiburg.
Stefan Pöll bewegt sich als vielseitiger Künstler in mehreren Genres: neben der Interpretation klassisch-konventioneller Orgelmusik lotet er in seinen Konzerten gerne die Spannungsfelder aus zwischen Alter Musik und Jazz, Gregorianik und Improvisation, Volksmusik und Tango... Die verschiedenen Bereiche inspirieren ihn. Durch kreative Konzeption von Konzertprogrammen und musikalischer Authentizität begeistert er das Publikum immer aufs Neue für die Orgel als Konzertinstrument. Ebenso arbeitet er gerne mit anderen Musikern zusammen, wie z.B. Heidemarie Röttig, Sopran oder Ines Then-Bergh, Violine
Konzerte gab er u.a. beim Salzburger Bachfest, St.Peter i.Schw., Abtei Ebersmünster, Zürich, Stift Zwettl, Benediktbeuern, im Rahmen des Festivals "Europamusicale" und regelmäßig auf der Fraueninsel im Chiemsee.
Vita english
Stefan Pöll, Organ
Having grown up at Chiemsee/Bavaria, Stefan Pöll began studying organ at the Mozarteum music college Salzburg while he was still at school. He graduated in 2004, in combination with a "B" degree in church music. After spending one year in the Erasmus student programme in Lyon, he then studied at the Musikhochschule (music college) Freiburg, receiving an "A" degree in church music, as well as a harpsichord degree. His teachers were Elisabeth Ullmann, Francois Espinasse, Louis Robilliard, Klemens Schnorr and Robert Hill. Numerous master classes gave him inspiration for his own interpretations. He was a finalist at the "Organum Histriae" competition for early music in Croatia and at the "Concorso organistico internazionale Muzzana" in Italy. In 2008, he accepted the temporary post of district cantor in Münstertal. He is currently working as a church musician in Merzhausen and as a teacher for church music ("C" degree) within the archdiocese Freiburg.
Stefan Pöll is a versatile artist, who feels at home in several genres: in addition to the interpretation of classical-conventional organ music, he enjoys finding the balance between early music and Jazz, gregorian music and improvisation, folk music and Tango etc. in his concerts. These different areas inspire him. Through the creative conception of concert programmes as well as musical authenticity, he succeeds in waking the audience's enthusiasm for the organ as a concert instrument time and time again. He also enjoys working with other musicians, such as Heidemarie Röttig (soprano) or Ines Then-Bergh (violin).
Among others, he has played concerts at the Salzburg Bachfest, at St.Peter i.Schw., at the Ebersmünster abbey, in Zürich, Stift Zwettl, Benediktbeuern, at the "Europamusicale" festival and regularly on the Chiemsee island "Fraueninsel".